Cutsforth's Market
Recipes
https://www.cutsforths.com/Recipes/Detail/9037/Apple_Cider_Glazed_Donuts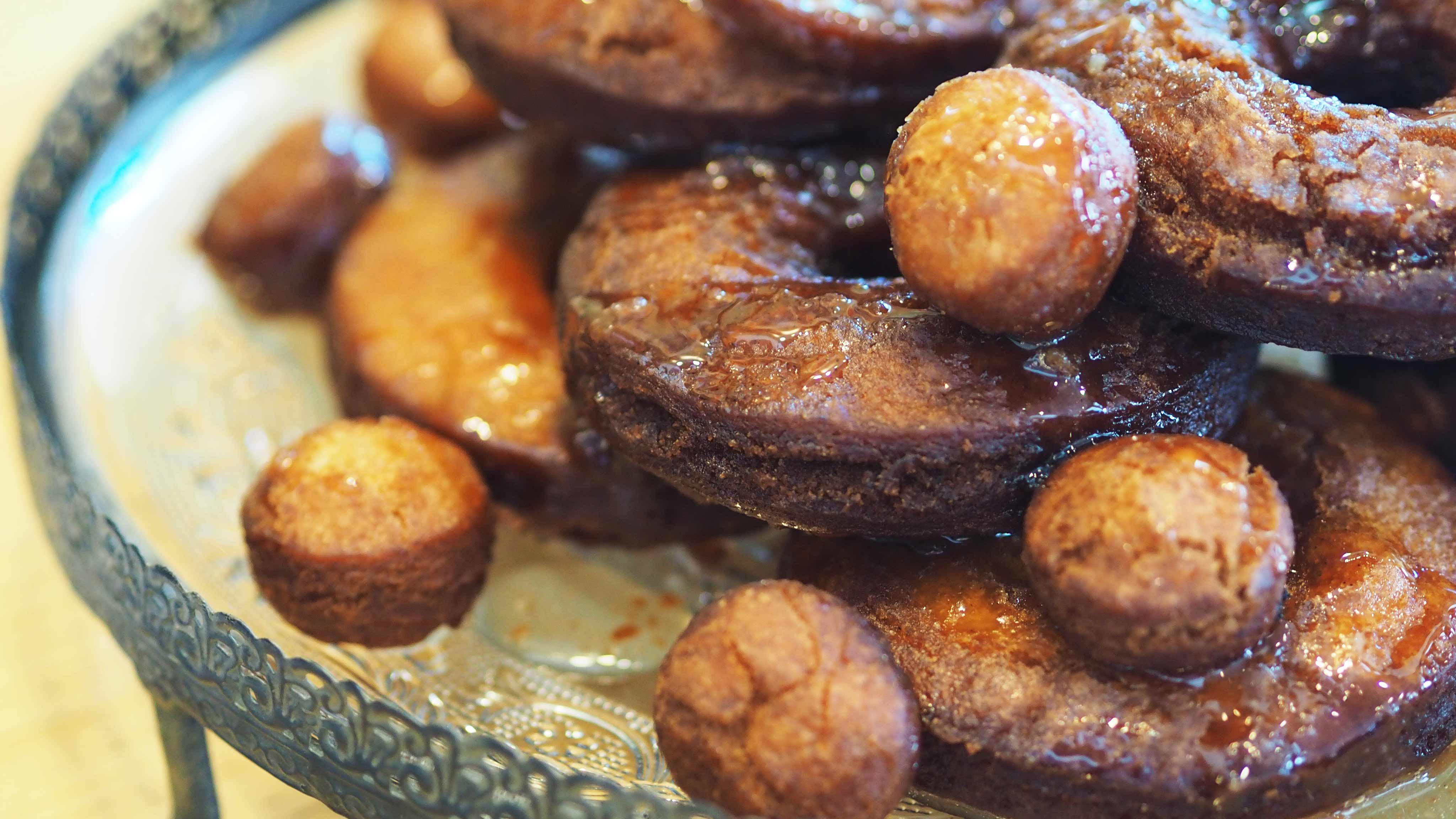 Apple Cider Glazed Donuts
Adapted from Smitten Kitchen
Yield: 16-18 donuts
Preparation Time: 5 min; Cook: 2 hours
Directions:
In a saucepan over medium heat, reduce the apple cider to about 1/4 cup, 30 to 40 minutes. Set aside to cool.

In a large mixing bowl, combine the flour, baking powder and baking soda, cinnamon, salt and nutmeg. Set aside.

Using a standing mixer, with the paddle attachment, beat the butter and granulated sugar until the mixture is smooth, on medium speed. Add the eggs, one at a time, and continue to beat until the eggs are completely incorporated, scraping down the bowl with a spatula after each addition. Reduce the speed to low and gradually add the reduced apple cider and the buttermilk, until combined. Add the flour mixture and continue to mix just until the dough comes together, do not overmix.

Line two baking sheets with parchment and sprinkle them generously with flour. Turn the dough onto one of the sheets and sprinkle the top with flour. Flatten the dough with your hands until it is about 1/2 inch thick. If needed, use more flour if the dough is still wet. Place the dough, on the baking sheet, to the freezer for 20 minutes. When ready, pull the dough out of the freezer and, using a 3-inch doughnut cutter, cut out the doughnut shapes. Place the shapes on the second parchment-lined baking sheet and refrigerate the doughnuts for 20 minutes. More doughnuts may be cut from the remaining scraps of dough by re-rolling the dough, refrigerating the dough briefly, and cutting additional shapes from the dough.

Add enough oil to a deep-sided pan, or Dutch oven, to measure a depth of about 4 inches. Bring the oil to 350 F by measuring the temperature with a candy thermometer attached to the side of the pan. Prepare a plate by lining it with several sheets of paper towel to soak additional oil after frying.

Meanwhile, start to make the apple cider glaze by simmering 1 cup cider in a small saucepan over medium heat until reduced to 1/4 cup. Remove from heat and whisk in the confectioners' sugar until smooth and glossy. Set aside.

Fry the doughnuts, when the oil is at temperature, in batches, by carefully adding a few doughnuts to the oil, and frying until golden brown, about 60 seconds. Turn the doughnuts over and fry until the other side is golden, 30 to 60 seconds. Using a strainer, remove doughnuts and place on paper towel-lined plate. Drain on paper towels. Dip donuts in apple cider glaze and remove and place on a rack lined with a sheet tray. Repeat this step for all the donuts. Serve immediately; store leftovers in an airtight container.
Photo and food styling by Webstop
Please note that some ingredients and brands may not be available in every store.
Cutsforth's Market
Recipes
https://www.cutsforths.com/Recipes/Detail/9037/