Cutsforth's Market
Recipes
https://www.cutsforths.com/Recipes/Detail/4529/Vegetable_Stuffed_Sandwich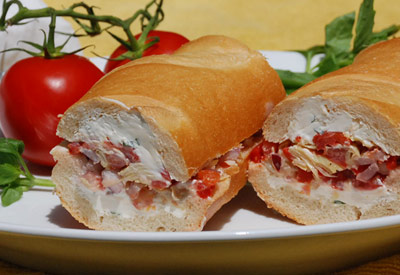 Vegetable Stuffed Sandwich
Yield: 4 servings
Ingredients
1

large loaf french bread or crusty baguette

1

small red onion, diced

3

roasted red bell peppers, julienned (see note) or (12 ounce) jar

1/2
cup

artichoke hearts, drained and chopped

2

tomatoes, seeded and diced

2
cloves

garlic, chopped

1
container

(8 ounce) cream cheese spread

1/4
cup

(2 ounce) mild soft goat cheese

1
Tablespoon

(4 leaves) chopped fresh basil or 1/2 teaspoon dried

Salt to taste

Freshly ground pepper to taste
Directions:
Cut the loaf in half horizontally; remove center of bread on both halves leaving a 1-inch thick shell.

Place a colander over a bowl. To the colander add onion, red peppers, artichoke hearts and tomatoes. Gently apply pressure to the vegetables to remove excess juice. Continue to let vegetables drain until ready to assemble the sandwich.

Combine garlic, cream cheese, goat cheese, basil, salt and pepper until smooth. Spread over cut halves of the bread. Spoon vegetable mixture into the hollows and sandwich the two halves together.

Slice into 4 portions and serve.
Photo and food styling by Webstop

To roast fresh red peppers:
Place whole peppers on a baking sheet or shallow pan and broil in oven until skin blisters. Turn the peppers until charred on all sides, about 15 minutes.

Transfer peppers to a bowl, cover with plastic and set aside to cool. When peppers are cool enough to handle, peel the skins and remove stems and seeds.
Please note that some ingredients and brands may not be available in every store.
Cutsforth's Market
Recipes
https://www.cutsforths.com/Recipes/Detail/4529/