Cutsforth's Market
Recipes
https://www.cutsforths.com/Recipes/Detail/7986/Dutch_Apple_Pie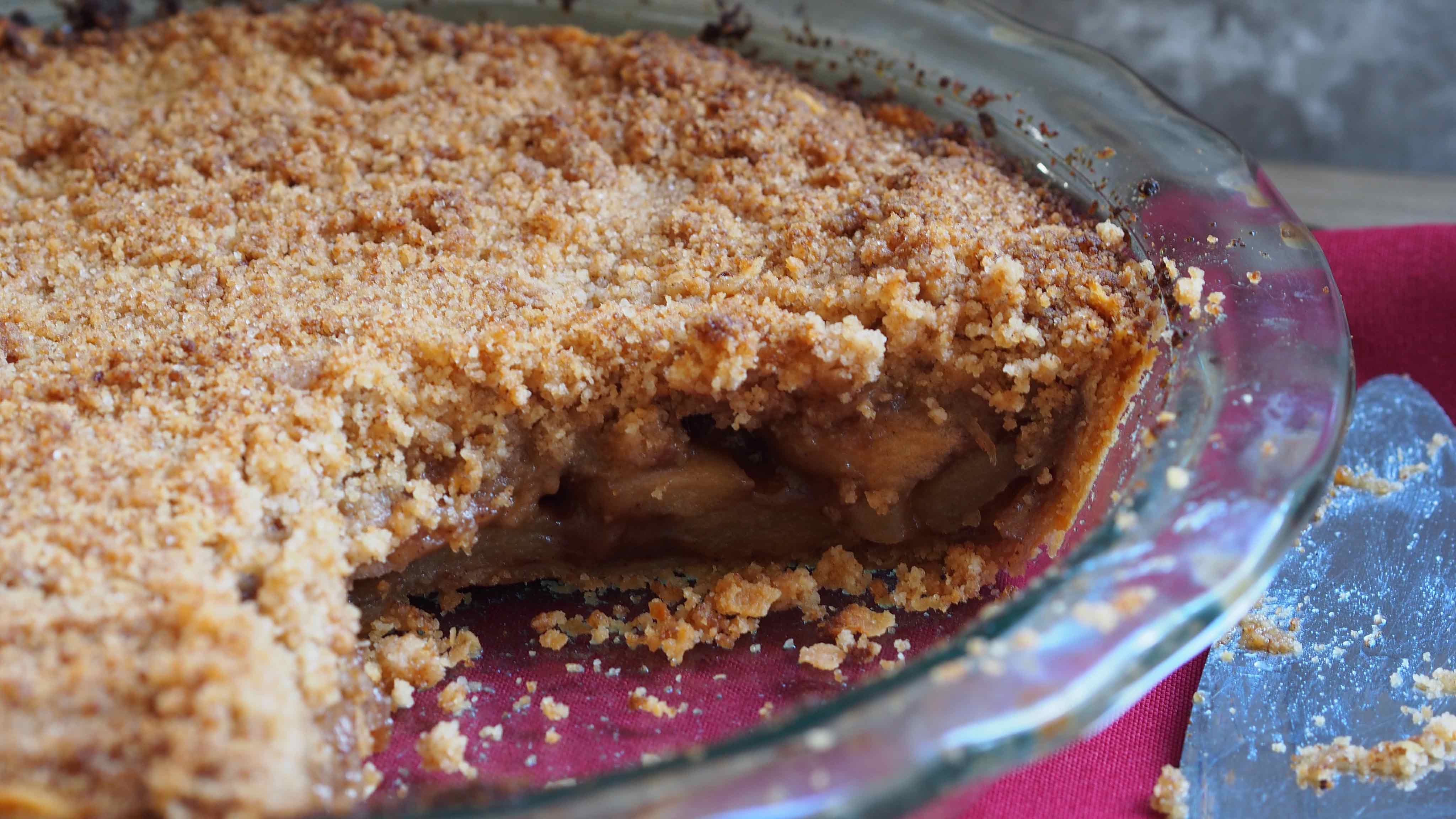 Dutch Apple Pie
Yield: 8 servings
Directions:
Preheat oven to 425 degrees F

In a large saute pan over medium high heat, melt butter then add apple wedges. Stir to coat apples in butter.

In a small bowl, combine 3/4 cup sugar, cinnamon, nutmeg and salt. Sprinkle over the apples, stirring to combine. Lower the heat to medium and cook until apples are tender, approximately 8 to 10 minutes.

Sprinkle the flour and cornstarch over the apples and continue to cook, stirring occasionally, another 5 to 6 minutes, or until juices start to thicken.

Remove pan from heat, add apple juice, stir and scrape fruit mixture into a bowl and allow to cool completely.

Place a baking sheet on the middle rack of the hot oven.

Remove the disc of dough (or one pie crust) from the refrigerator and roll it out on a lightly-floured surface until it is 12-inches in diameter. Fit this crust into a 9-inch pie plate, trimming the excess and crimping the edges with the tines of a fork. Place in the freezer.

Meanwhile, in a medium bowl mix 3/4 cup flour, sugars and butter using a pastry blender until coarsely crumbled.

Remove pie crust from freezer and fill with the cooled pie filling. Place the crumb topping evenly on top of pie filing. Place pie in the oven on the baking sheet and bake for 20 minutes.

Reduce temperature to 375 degrees F and continue to cook until the crust is golden brown, about 30 to 40 minutes. Remove from oven and allow to cool on kitchen rack for two hours.
*Search for the Flaky Pastry Pie Crust recipe and cut the recipe in half resulting in 1 pie crust.

Photo and food styling by Webstop
Please note that some ingredients and brands may not be available in every store.
Cutsforth's Market
Recipes
https://www.cutsforths.com/Recipes/Detail/7986/